Since we always keep our promises, we've officially declared this week as the color week at Flybizz! We promised we would bring you an article about the color trends for this year, but we always like to be one step ahead so we're also going to show you the colors that Shutterstock — the most used online image library — considers "the colors of 2020".
If you think about the purpose of colors, you'll understand they play a key role in basically everything that happens in our lives. Colors help us to differentiate objects. We associate them to people, experiences and feelings. When it comes to marketing, keeping up with the trends is what ensures that consumers/clients will feel attracted to your brand, so save our tips and start taking your design skills to a whole new level.
5 color trends for 2020
1. Gradient colors
They've had their moment in 2019, but it seems that moment is going to last during this year. Colors that gradually change their tone have been winning a special place in UI design, package design and branding. Choosing gradient colors allows you to develop all the visual image of your brand around shades that are very similar to each other.
Gradient illustration by Walid Beno

2. Vibrant and futuristic colors vs. silent colors
The combination of 3D design and flat design has been accompanied by colors that we generally associate to the idea of the future. From saturated blue, strong purple and shinning bright pink, these colors create a visionary pallet that usually makes consumers feel like they're living an experience that goes behind real life. Therefore, brands try hard to stand out and, to do so, they choose boldly and over saturated colors. This is also where neon colors join the party.
However, this trend doesn't come alone, so it's followed by a group of colors that are exactly its opposite: silent colors. Because they have lower levels of saturation in black, white or any other color that complements it, this type of colors are usually combined with each other or with neutral colors, and they have a much natural look. The trend is to join light silent colors with light backgrounds and vice-versa for darker silent colors.
Futuristic cholor schemes by Sasha Turischev
3. Yellow and the Z generation
Yellow, yellow and yellow. The color that so many people hate, and so many others love. Even though it opposes the trend of silent colors, yellow has won a special place in the mind of the consumers, especially the ones who are part of the Z generation. Some say this color will leave a mark on this generation, just like pink left its mark on the Millenials. The passion for yellow is extremely associated to changes in the worldwide cultural paradigm, that now demand more diversity and inclusion.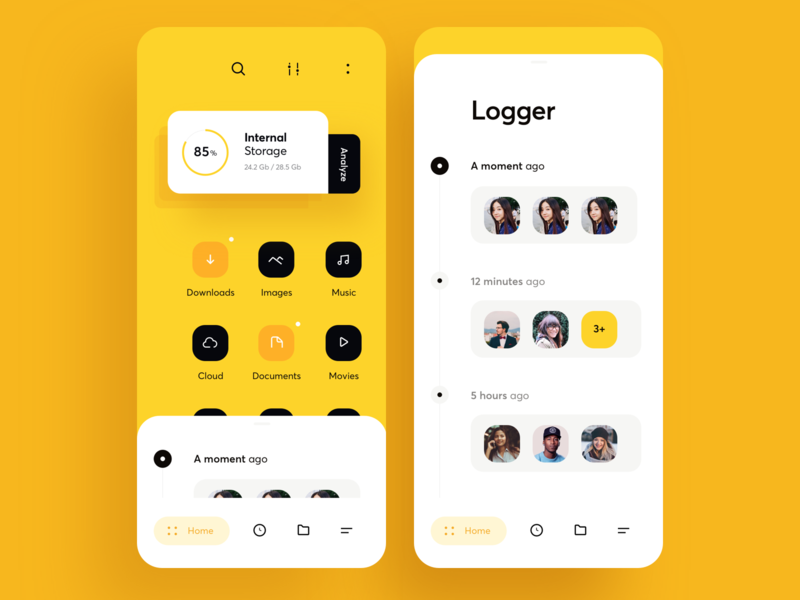 Yellow app design by Eugene Olefir
4. Dark mode
We've seen this trend grow during the last year, with companies investing on software and applications that include a dark mode version. In contrast to the original version, dark mode incorporates a darker background with lighter text, which becomes an advantage in spaces with little light, as well as in terms of energy efficiency. Having dark backgrounds helps design and the other colors to stand out, creating a more appealing and captivating image.
5. Earthy vintage colors
2020 is the year when we go back to the past. Rescuing older trends is no big news, but it can be when it comes to colors. Brands are increasingly adopting a vintage design, with earthy colors (like "mustard" or "cream"), but with a slightly modern touch. Different contrasts, minimalist shapes and retro silent style, all of this applied not only to communicate through social media or publicity, but also to your brand's identity, package design or typography.
Retro poster by Pavlov Visuals
The 3 colors of the year
1. Lush Lava (#FF4500)
The bold, hot and captivating reddish-orange. The combination between the burning orange and the rich red catch people's attention on its own, helping your brand to stand out in the middle of the crowd. In Asian countries, this color represents happiness, love and health.
2. Aqua Menthe (#7FFFD4)
A color that's also captivating, but more calm. It is born from the combination of cyan and mint. Both colors are extra satisfying when used alone, but when combined, they turn into a more elegant, serene and attractive tone. This color is usually associated with summer, vacation, beach, sea and can bring a more relaxed, modern and outgoing personality to your brand.
3. Phantom Blue (#191970)
The almost purple blue. Its high level of saturation gives it depth, easily catching the eye of people who walk by. Just like the other dark tones, it transmits stability, trust and sophistication. You can use it in your brand's identity with stronger colors, like Lush Lava or Aqua Menthe.
---